When setting up a weld cell for a new schedule, it is imperative to ensure the weld pressure your equipment is reporting is correct. A weld force gauge is the best tool for the job, and for best accuracy we recommend your weld force gauges be digital. The list below contains the part numbers of the most popular models. All gauges come with a ISO-17025 certificate of calibration.
Other force gauges are available for alternative units of measurement including: Newtons, KiloNewtons and DecaNewtons. We will be adding hydraulic gauges to this list shortly. Hydraulic gauges should be selected for use in mid-range.
NEW: We now can offer a force gauge designed for projection welding! Its head is made with a hole to allow the locating pin to pass through.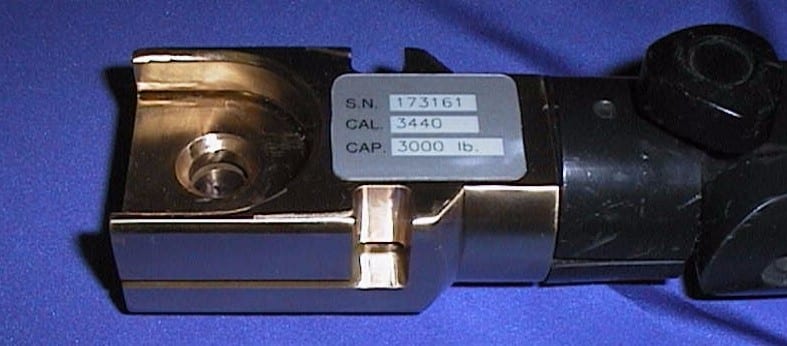 Series
Specifications and Features
90061-xxxx
Digital
Probe
Capacity: See drop down menus below for part numbers
Overload Capacity: 150% of F.S.
Display: 4 digits standard
Accuracy: 0.5% of F.S.
Weight: 4.0lbs
Battery: AA size Alkaline, with 50 hours of continuous use
Analog output: 0-4.5V dc
Features:
-Rotating and pivoting beryllium copper sensor head for improved accessibility
-Single button operation
-Optional 2 piece construction
To see the different models we offer and their part numbers, please click on the buttons below:
---
| Part Number | Force Range |
| --- | --- |
| 90061-JACA | 0 – 3,000 lbs |
| Part Number | Force Range |
| --- | --- |
| 90061-BAKA | 0 – 1,000 lbs or 454 Kg |
| 90061-AAKA | 0 – 3,000 lbs or 1360 Kg |
| 90061-CAKA | 0 – 5,000 lbs or 2270 Kg |
| 90061-DAKA | 0 – 10,000 lbs or 4540 Kg |
| Part Number | Force Range |
| --- | --- |
| 90061-BACA | 0 – 1,000 lbs |
| 90061-AACA | 0 – 3,000 lbs |
| 90061-CACA | 0 – 5,000 lbs |
| 90061-DACA | 0 – 10,000 lbs |
| Part Number | Force Range |
| --- | --- |
| 90061-BACB | 0 – 454 Kg |
| 90061-AACB | 0 – 1360 Kg |
| 90061-CACB | 0 – 2270 Kg |
| 90061-DACB | 0 – 4540 Kg |